Look around at the 3D printers on the market, and you quickly see their limitations. Traditionally, most 3D printers only do one thing:
3D printing with one material. Limiting our reach to true innovation
We rethinking the entire field of 3D printing, and we have engineered MakerPi P3 PRO to work via interchangeable modules, each of which can serve a different function. Just like the lens on a camera, the modules on MakerPi P3 PRO open up new realms of possibility in your artistry.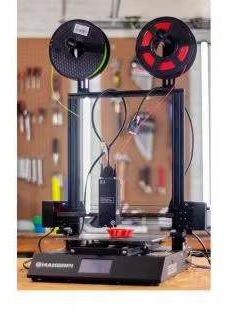 Using the 2 in 1 out extruder, it can mix any PLA material for an incredible gradient pattern to add a unique flair to your print designs in proportion before it does any printing. This means you can create new colors and merge parts. Mix different 2 TPU filaments with hardness, you will get a new TPU.Even a new TPU with adjustable hardness.Select the IDEX structure,Print in dual mode , single mode,copy mode, mirror mode, and laser mode. You can print water-soluble supports, high temperature filament, flexible filament and laser.The choice is always yours.